Executive Director
and Staff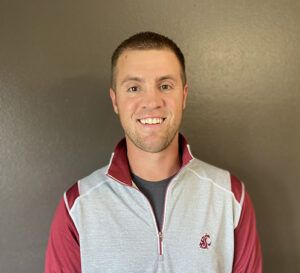 Kyle grew up in Ephrata and attended Washington State University, where he obtained a bachelor's degree in Electrical Engineering. Working for Big Bend Electric Cooperative was the position that landed him in Ritzville in 2014, where he spent two years learning about the county and its citizens. Afterward, he worked in a variety of positions both inside and outside the county, spending several years in Othello working construction sales and project management. Most recently, Kyle worked from his home in Ritzville covering Eastern Washington for a metal building manufacturer.
Prior to being hired as the Executive Director, he served on the ACDC executive board for two years as the Vice-Chairman. Kyle joined Adams County Development Council because he "Wants to make a difference in the place he calls home. A successful community is one where citizens step up and are involved. We have that in Adams County, and I want to continue to help lead that. Adams County has the resources available for continued business expansion and new business relocation, and I am excited to work with all parties to really show how Adams County is poised for measured, sustainable growth." When the opportunity came up for the Executive Director position, he applied with excitement.
Locally, Kyle has served as the Ritzville Lions Club President and Vice President, is an active member of the Ritzville and Adams County Volunteer Firefighters (since 2016), and has volunteered for local action committees whose goal and purpose was always to better the community.
Kyle's wife is from Harrington and has worked for Washington State University for 12 years in admissions and recruitment. They have two daughters, Charlie age 3, and Emmy age 1. They love to attend WSU Football games in the Fall, and during the warmer months, you'll find all of them on Lake Roosevelt, enjoying family time on the water. 
Emily Smith started working in Economic Development in 2011 as an accountant for a local economic development organization. She grew with the company, first as the Communications Manager and lastly as the Business Recruitment Manager. She has worked on many projects such as data center expansions, recruited new foreign companies, and advocated for the local business at the local level and with the state legislature.
Emily is married to Randy, and together they have two young boys who keep them on their toes. The Smith toddlers love to throw rocks into any body of water, ride their balance bikes and help grandpa on the farm.